Farm Management Canada Celebrates Success, Welcomes New Directors at Annual Meeting
Farm Management Canada would like to thank everyone who participated in this year's Annual General Meeting (AGM). The AGM was held virtually July 12th and was a great success, welcoming members and stakeholders from across Canada and around the world to celebrate Farm Management Canada's 2021-22 accomplishments and hear the results of Director elections.
Farm Management Canada highlighted the success of its skills development programming including the Agricultural Excellence Conference, Farm Financial Fluency Training Program, National Farm Leadership Program, AgriShield risk assessment and planning platform and Roots to Success risk management training program, and research endeavours in support of Farm Women. Farm Management Canada's reach and impact was further demonstrated by countless contributions to industry events, popular press, and industry consultations on agricultural policy and programming.
"The Annual Meeting is an occasion to not only share our accomplishments over the past year," says Heather Watson, Executive Director, "but also recognize those who have helped us along the way. I want to thank our Board, staff, members and partners for helping us continue to create and deliver innovative programming and services to meet the ever-changing needs of Canada's agricultural industry. We look forward to celebrating 30 years of advancing farm business excellence throughout the coming year."
Farm Management Canada's Annual Report detailing the organization's accomplishments is available online at www.fmc-gac.com.
This year, Farm Management Canada received 6 nominations for 5 Board positions available.
Farm Management Canada welcomed four new Directors: Harsh Khela, Jim Selman, Julia Buckingham and Stuart Person to its Board of Directors, and Derek Brewin was re-elected to the Board for a second term.
Derek Brewin is a Professor and Head of the Department of Agribusiness and Agricultural Economics at the University of Manitoba. He is a Past President of the Canadian Agricultural Economics Society. Prior to his academic career, Derek was a Corporate Advisor for the CWB; a Policy Economist for AAFC and a farm lender with FCC. Derek was raised on a mixed irrigation farm in Purple Springs, Alberta.
Harsh Khela has spent his entire life working on his family farm and is Chief Operating Officer at Northern Cherries Inc. in Kelowna, British Columbia. His family has been growing fruits and vegetables in the Okanagan Valley since 1993 and have a diverse land portfolio that now include cherry processing and export.
Jim Selman currently serves as Head of Business Development for Trendi, working with farmers and processor / packers to address food waste solutions. Prior to joining Trendi, Jim held senior management roles in leading Canadian marketing services agencies and built and managed his own consulting agency advising corporations and brands on business building tactics and organizational strategic planning including Dairy Farmers of Canada's blue cow logo.
Julia Buckingham is the lead advisor on Dairy Farmers of Canada's sustainability strategy, working closely with farmers and value-chain stakeholders to develop the industry's plan to achieve net-zero emissions from farm-level dairy production by 2050. Prior to this, she worked for the Canadian Roundtable for Sustainable Beef and the Beef Cattle Research Council.
Stuart Person CPA, CA, is the Senior Vice President of MNP's Agricultural Services and National Leader of Crop Services, located in Edmonton. He leads a national team of more than 700 Agriculture professionals who serve more than 21,000 clients. Stuart has more than 25 years of experience in agriculture, specializing in the grain industry. Stuart grew up on a grain farm and continues to participate as a producer himself.
Farm Management Canada, its members and Board extended a sincere thank you to its outgoing Board members Roberta Galbraith, Annessa Good, Henry Vos, and Janine Sekulic. Roberta and Annessa were elected to the Board in 2019, Henry in 2020 and Janine in 2021. Roberta served as Vice-Chair from 2021-2022.
Following the Annual Meeting, Andrea Gal, who farms with her family in Oxford County, Ontario and works as a consultant, was re-elected as Chair. Stephen Duff, a farmer from Ontario was elected Vice-Chair, and Derek Brewin, Head of the Department of Agribusiness and Agricultural Economics at the University of Manitoba was re-elected Secretary/Treasurer.
"I'm honoured to be elected for my second term as Chair of Farm Management Canada," says Andrea Gal. "I look forward to building on our long history of successful farm business management programming and activities. Together with industry partners and sponsors, our board and staff will continue to serve the farm business management needs of producers and other stakeholders in the Canadian agricultural industry."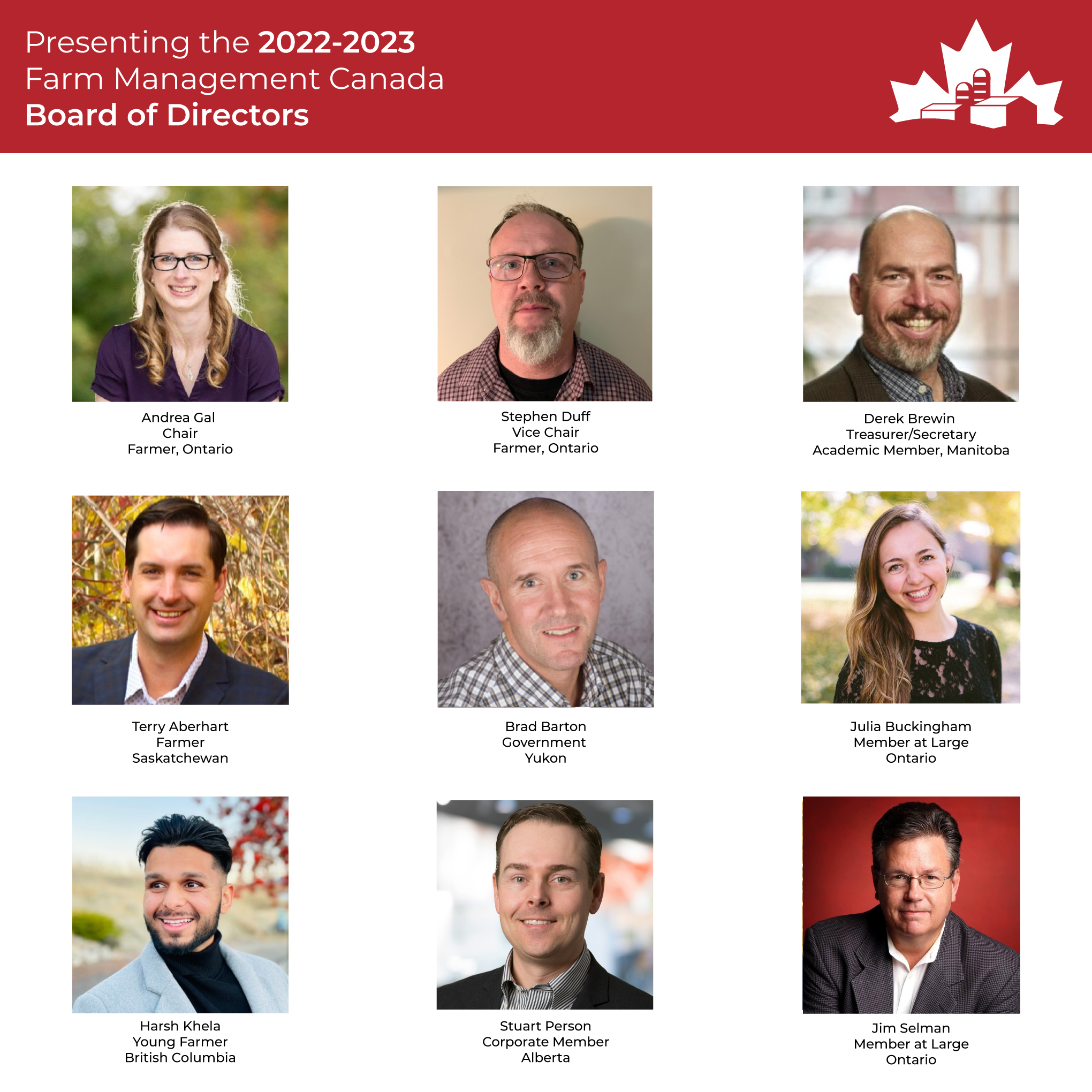 About Farm Management Canada
A national umbrella for Canadian farm business management activity, Farm Management Canada is the only organization devoted exclusively to the development and delivery of advanced business management information, tools and resources to position Canada's farmers for success. Our programs and activities are made possible through support from generous sponsors and supporters including Government, private industry, the non-profit sector and academia.
For more information contact:
Andrea Gal, Chair
Email: AndreaMGalAg(at)gmail.com
Heather Watson, Executive Director
Email: Heather.Watson(at)fmc-gac.com