Farm Financial Health Report 2023-2024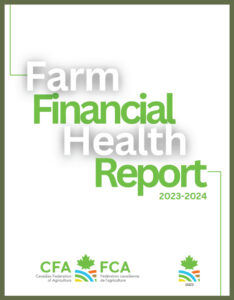 The Canadian Federation of Agriculture (CFA) has published a Farm Financial Health Report which provides an in-depth look at the financial health of the agriculture sector, and provides a suite of recommendations to help farmers manage rising costs of production, improve competitiveness and achieve sustainable growth.
Farm Management Canada is proud to be a contributor to this report, which highlights the importance of improving the financial sustainability of Canadian farms and recommends actions for government.
The cost of critical farm inputs such as fuel, fertilizer, feed, machinery, pesticides, land and labour has increased dramatically. When coupled with high inflation, interest rates and a price on carbon for essential farming activities, for which farmers have no viable alternatives, Canadian producers are facing tremendous pressure on their farm financial and mental health.
"Investing in farm business management practices including financial literacy and proactive planning plays a significant role in managing the stresses of farming in a way that contributes to positive mental health and building our capacity to remain resilient in an increasingly complex business environment."
– Heather Watson, Executive Director, Farm Management Canada
CFA has put forward 18 recommendations in several areas aimed at not only helping farmers manage the increasing cost of production and navigate challenging regulatory barriers, but also to help them mitigate the effects of climate change and support the next generation of farmers.
Recommended Areas for Action include:
Help manage the increased cost of production
Improve risk management programs and reduce regulatory and tax burdens that restrict competitiveness
Promote stable and sustainable growth.
Supporting new entrants and young farmers
Canadian farmers play a crucial role in sustaining our rural communities, as stewards of our natural environment and in meeting our national and international food security needs. These recommendations are aimed at ensuring Canada's farmers have the flexibility and tools they need to weather the current financial climate and support the transition to a low emissions economy.