The Agricultural Excellence Conference (AgEx) welcomes anyone and everyone from farmers to advisors, academia, organizations, private industry, and government to join us to exchange expertise and insights to continue to position Canada's farmers for success through farm management excellence. Through a variety of speakers, discussion panels and interactive learning, we feature top notch content through our virtual platform, so you can enjoy learning and networking from anywhere – your home, office, field, boat, barn or greenhouse!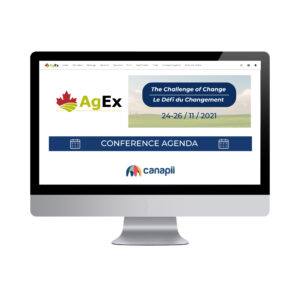 AgEx is the only event in Canada dedicated exclusively to bringing farm management enthusiasts together to build their business acumen.
AgEx 2021 was held virtually from November 24 to 26, 2021 and AgEx 2022 will be held in Canmore, Alberta. Stay tuned for more details! In the meantime, check out the AgEx recordings listed below!
WHY ATTEND AGEX?
AgEx is the only gathering place for Canada's farm management enthusiasts
AgEx is focused on building the business acumen and prosperity of Canada's farmers
AgEx is focused on practical take-aways and learning outcomes
AgEx focuses on interactive learning to meet the diverse learning preferences and practices of delegates