Agricultural Excellence Conference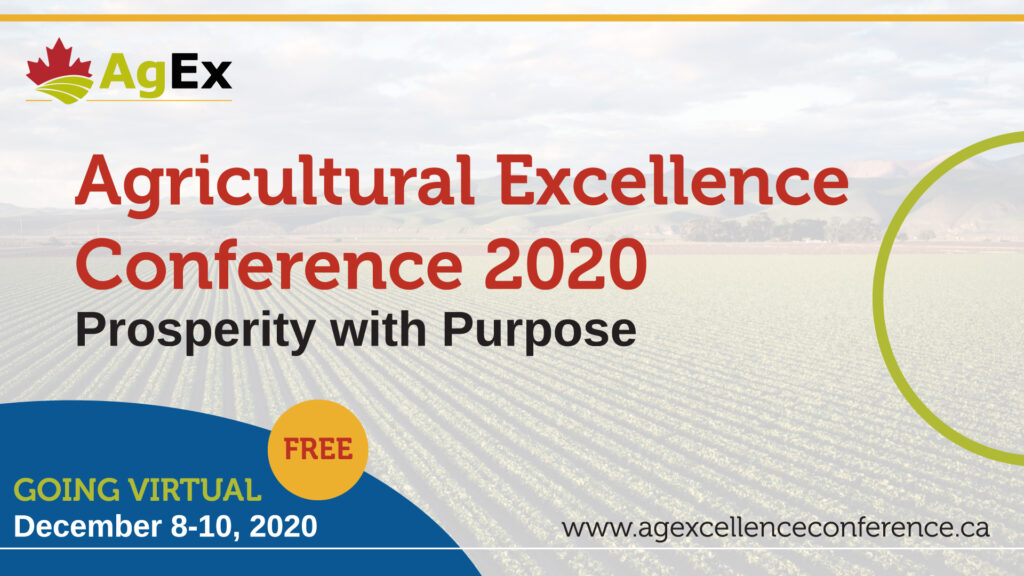 The 2020 Agricultural Excellence Conference is going virtual. As the ongoing COVID-19 Pandemic is still creating much uncertainty in the world, we have decided to protect our attendees, speakers and sponsors and host our event online. Through a variety of speakers, panels and discussion, we will feature all the same great content, virtually, that you can enjoy from anywhere – your home, office, field, boat, barn or greenhouse!
The Agricultural Excellence Conference (AgEx) is the only event in Canada dedicated exclusively to bringing farm management enthusiasts together to build their business acumen. This year's theme, Prosperity with Purpose, is about taking a proactive approach to farm business management – to build the confidence and underlying capacity to weather any storm and seize opportunities, positioning the farm for continued success.
To see our agenda, our sponsors, to learn more about AgEx 2020 and to register, click here!*
*Please note that conference will be offered in English only.
We know what you're thinking "oh no, not another online conference," but wait!
We'll be using a state-of-the-art platform to recreate the same great learning experience as our in-person Conference…and then some!
You will be able to move around our virtual conference just like in-person; explore various speaker rooms, fill your swag bag with information, compete in mini-challenges for prizes, and network with others!
We will have an exhibitor hall where you can learn more about organizations that see the value in business management, just as much as we do and chat with them, face-to-face!
We will have our National Resource Showcase – just like we do in person!
And the best part?
All of our main Conference sessions will be FREE!
 New this year!

For only $150, attendees will have access to our speakers in follow up sessions after the conference! You can pick the brain of the speaker, ask in depth questions and have general discussion about issues they may be able to help with in a smaller group setting!
Don't miss out! Register now and get updates on all our new speakers and conference activities. Although AgEx may look a little different than years' past, we are offering all the same things you love about it, just online!
For information regarding other event details, please contact:
Denise Rollin
Project Manager
Farm Management Canada
613-237-9060 x 32
info(at)fmc-gac.com