May 25, 2017 – Embrun, Ontario – Agriculture and Agri-Food Canada
Flooding, pests, disease and other extreme weather events are constant risks to the businesses and livelihoods of farmers. The Government of Canada is committed to working with industry partners to explore and develop new risk management tools that meets the needs of Canadian farmers when faced with serious challenges beyond their control.
Member of Parliament, Francis Drouin, today announced a $786,921 investment for Farm Management Canada to develop a new online agricultural risk management tool called "AgriShield". This online tool will help farmers have real-time assessments of the potential negative impact of risks to their businesses and provide mitigation solutions. For instance, if an overland flood situation is imminent, the tool can help farmers to assess the degree of risk they face and potential mitigation measures that they can adopt, such as tile draining or insurance coverage.
This investment is being made through Agriculture and Agri-Food Canada's AgriRisk Initiatives (ARI) which supports the research and development, as well as the implementation and administration of new risk management tools for use in the agriculture sector.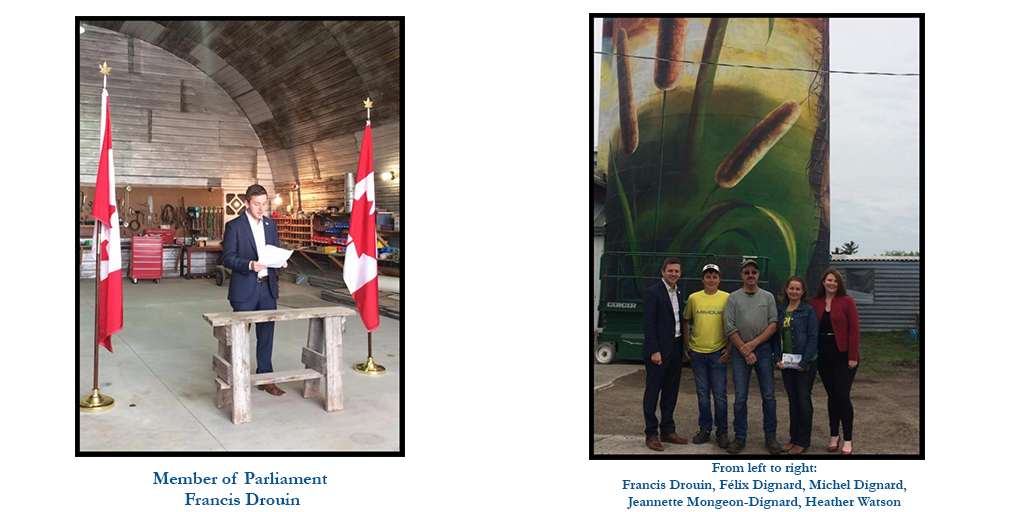 Quotes
"Canadian farmers face risk every day and it is essential they have the necessary tools to better understand and manage risk. The recent flooding in Eastern Ontario and Quebec, for example, shows the need to help farmers more effectively manage risk, so that they can be stronger, more innovative and more competitive."
~ Francis Drouin, Member of Parliament for Glengarry-Prescott-Russell

"Less than 1/3 of Canada's farmers have a risk management plan. Our ultimate goal is to increase the awareness and adoption of risk management practices and planning as part of the farm management process and cultivate a more comprehensive understanding and approach to assessing and managing risk within the agricultural sector."
~ Heather Watson, Executive Director Farm Management Canada
Quick facts
Farm Management Canada is a national organization dedicated exclusively to providing leading edge resources to enable Canadian producers to make sound management decisions.
The online tool covers all areas of potential risk faced by agricultural businesses, gathering data that will enable farmers, commodity groups and the agriculture sector to establish benchmarks for improved risk management performance.
Project partners include the Canadian Federation of Agriculture and the consulting firm Meyers Norris Penny.
AgriRisk Initiatives is a Growing Forward 2, Business Risk Management program.
Additional Links
Contacts
Guy Gallant
Director of Communications
Office of the Honourable Lawrence MacAulay
613-773-1059
Media Relations
Agriculture and Agri-Food Canada
Ottawa, Ontario
613-773-7972
1-866-345-7972
Follow us on Twitter: @AAFC_Canada
Like us on Facebook: CanadianAgriculture
Heather Watson, Executive Director
Farm Management Canada
Ottawa, Ontario
Telephone: 1-888-232-3262 Fax: 1-800-270-8301
Email: info(at)fmc-gac.com