Ontario's Len Davies Recognized for his Contribution to Farm Transition with Prestigious Wilson Loree Award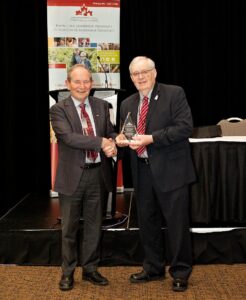 Farm Management Canada recently held its Agricultural Excellence Conference in Fredericton, New Brunswick where Len Davies was announced as the 2019 recipient of the prestigious Wilson Loree Award. Now in its seventeenth year, the Award honours individuals or groups who have made an extraordinary contribution to advancing agricultural business management practices in Canada.
Len Davies is a family business continuity planner who for the last 17 years has helped farmers throughout Ontario and the Maritimes complete their business continuity plans.
Len grew up on a dairy farm and studied agriculture at the University of Guelph. After graduating, Len worked for a feed company and the Ontario Ministry of Agriculture, Food and Rural Affairs as a Research Analyst in cost of production studies. For many years, Len served as Field Operations Manager for Agricorp.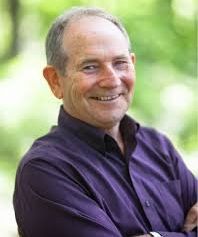 After an early retirement, Len founded Davies Legacy Planning Group Inc. in 2003 where he has guided over 600 clients through an 8-step process towards developing an action plan to ensure their business continues to the next generation. The 8-step process addresses the components of a business continuity plan using the 3-circle model; Family, Management and Ownership. As a team player, Len uses other professionals in his planning process such as a Family Facilitator, Lenders, Accountants and Lawyers. By doing so, he has assured his clients attain the best advice possible to continue their family farm for many more generations.
Len is a firm believer in lifelong learning which has earned him numerous designations. Most recently, Len graduated from the Institute of Family Enterprise at the Sauder School of Business, University of British Columbia. Len is also a founding member of the Canadian Association of Farm Advisors in Ontario as well as a long-time member of Farm Management Canada. Len also has designations as a Certified Financial Planner, Chartered Life Underwriter and Certified Divorce Financial Analyst.
Len resides in Muirkirk, Ontario with his wife, Mary. Len has two daughters, Janet and Carla, and one son, Jeff.
This is some of what Len's colleagues, peers and clients had to say about his contribution to affecting positive change in farm business management:
"To say that Len Davies exemplifies all that is positive in the agriculture industry, would be a profound understatement. Very simply, Len Davies wakes each day with an immense passion for the industry and a goal of making yet another farm family better off for having met him."
"To witness the skill with which Len encouraged all family members to actively participate in the succession planning process, and to ensure that all difficult conversations happened as a prelude to the written plan, was like watching art appear on a canvas. There wasn't a farm family issue that Len hadn't already dealt with at some point and he was able to instill a comfort level that made families comfortable and engaged to see the plan through. Some farm family scenarios were more challenging than others but, Len treated them all with the utmost in respect and a determination to provide them with innovative approaches to resolve the succession planning challenge. His wisdom and his experience are second to none."
"Len provided emotional and mental health support that allowed us to be completely comfortable bearing our souls and working toward a plan that was tailored to us. Len sees each farm family as "one of a kind" and never uses a cookie cutter approach. Through the process of preparing our business plan, Len gave us back our pride in ourselves and our farm and left us proud and passionate about our future in this great industry."
Wilson Loree personally presented the award to Len at the Agricultural Excellence Conference. Len was accompanied by his daughter, Janet.
"After retiring early from Agricorp, Len took a friend's suggestion to get into the field of farm succession planning, where he has worked with over 600 clients," recounted Wilson. "I think we owe a debt of gratitude to that friend. Len, we're pleased to have you join this prestigious group of previous winners including people like Elaine Froese, Merle Good, Terry Betker, Larry Martin, Lyle Stavness."
In his acceptance speech, Len recounted advice he heard and has held close from Zig Ziglar. "I have always believed that if you help enough people get what they want, you will get what you want," noted Len. "It's important that we don't lose sight of what we're doing. Don't lose sight of who the client is. If we make things right for the client, success will come for us."
"I look at myself like your general practitioner. There are all kinds of people who know more than I do when it comes to specific areas, but I need to know what they need so I know where to send them and when to send them. I have built my practice around that."
Wilson Loree retired as Branch Head of Agriculture Business Management after 27 years with Alberta Agriculture, Food and Rural Development. The Award was created in 2002 in Wilson's name by Farm Management Canada. Wilson is cited as "an individual who exemplifies innovation, wisdom, and a constant focus on the farm manager and the farm family." Currently Wilson resides in Calgary, Alberta.