Farm Management Enthusiasts Gather in Winnipeg to Cultivate Farm Business Excellence
December 18, 2018 – Farm Management Canada held its annual national Agricultural Excellence Conference in Winnipeg from November 26th to the 28th welcoming over 280 farm management enthusiasts from across Canada.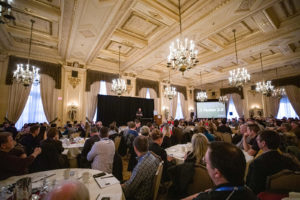 The conference theme, Ready? Steady. Go!, was an opportunity for delegates to take stock of their operations and what they can do to unleash their full potential. Industry experts provided unique insights into agricultural trends across Canada and around the world, and the best management practices farmers can use to confront change with confidence and seize opportunity. Conference-goers came away from AgEx equipped with practical information and tools to enhance their farm business practices.
From farmers and ranchers to advisors, consultants, students, academia, government, private industry and associations, the Conference welcomed a diverse group of industry stakeholders who provided incredible energy and engagement.
The Conference started with a macro look at the agricultural industry with Futurist Nikolas Badminton speaking about Farming 3.0, followed by a panel and roundtable discussion led by Canadian Agri-Food Policy Institute CEO Don Buckingham on Canada's capacity for sustainable growth, balancing economic, environmental and social pressures. The Bridging the Gap forum explored how we can work towards improving farm transition and preserve farm legacies while empowering our future farmers. The Healthy Farmer: Healthy Farm panel explored steps we can take to support positive mental health on farms. Concurrent workshops took a deep dive into key management topics including finance, renting versus owning land, human resource management, self-improvement and peer advisory groups. Looking upwards and onwards Matt Hamill, Nuffield Scholar presented international insights and Rod Guilford, Canada's 2007 Outstanding Young Farmer shared what it takes to be an award-winning farmer.
Participants had access to farm family and personal coaches throughout the Conference as part of the Coach on Call feature, and were made aware of the resources and tools available to maintain competitive advantage through the Farm Business Management Resource Showcase.
The Conference also recognized excellence in farm business management. The Wilson Loree Award is awarded to individuals or groups who have made an extraordinary contribution to developing and promoting new and positive change in farm business management practices and expertise in Canada. Congratulations to the 2018 recipient, Elaine Froese.
In conjunction with the conference, Nuffield Canada hosted their Annual Meeting and Scholarship Orientation. Canada's Outstanding Young Farmers National Conference was held immediately following AgEx.
Farm Management Canada also hosted the Provincial/Territorial Ministry Representatives Meeting and an Alumni event for the Successor Development Program (farmers under 40).
A sincere thank you to our delegates, speakers, sponsors and supporters who helped make this event a success!
To relive the Conference experience, search the hashtag #AgExConf18 on Twitter or check out our media partners RealAgriculture, FarmMarketer, Small Farm Canada, Manitoba Co-operator, Grainews, Alberta Farm Express, and Western Producer.
About the Agricultural Excellence Conference (AgEx)
AgEx is a one-of-a-kind learning and networking event, focused on bringing diverse industry experts and stakeholders together from across disciplines, regions and commodity sectors to share and explore beneficial farm management practices, advice, and insight with leading farm business thinkers. The conference takes place in a different location every year across Canada.
About Farm Management Canada
A national umbrella for Canadian farm business management activity, Farm Management Canada is the only organization devoted exclusively to the development and delivery of advanced business management information, tools and resources to position Canada's farmers for success. Farm Management Canada's programs and activities are made possible through support from generous sponsors and supporters.
– 30 –
For more information or photos contact:
Heather Watson, Executive Director
Farm Management Canada
300 – 250 City Centre Ave., Ottawa (Ontario) K1R 6K7
Telephone: 1-888-232-3262 Fax: 1-800-270-8301
Email: info(at)fmc-gac.com
www.fmc-gac.com
Graphic Recording of the Panel Discussion: Healthy Farmer: Healthy Farm