Manitoba's Elaine Froese Recognized for her Contribution to Canada's Farming Families with Prestigious
Wilson Loree Award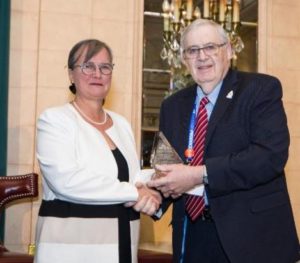 December 12, 2018, Ottawa, ON – Farm Management Canada recently held its Agricultural Excellence Conference in Winnipeg, Manitoba where Elaine Froese was announced as the 2018 recipient of the prestigious Wilson Loree Award. Now in its sixteenth year, the Award honours individuals or groups who have made an extraordinary contribution to advancing agricultural business management practices in Canada.
As a certified farm family business coach, Elaine Froese specializes in helping farm families work through the tough issues to take action. She creates a safe place for families to meet, plan for change and be clear about expectations.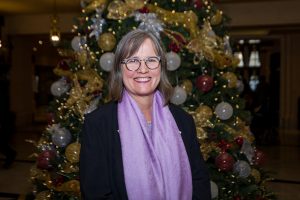 Elaine is an award-winning author of Planting the Seed of Hope, Do the Tough Things Right, Farming's In-Law Factor, and Building Your Family Legacy. Her online course Get Farm Transition Unstuck helps procrastinating farmers deal with the emotional factors affecting planning. She has been a regular contributor to Grainews for over 20 years, and her blog reaches over 7500 subscribers.
Elaine Froese is a member of the Canadian Association of Farm Advisors and the Canadian Association of Professional Speakers. Elaine is a professional business coach, with certification from the Hudson Institute of Santa Barbara, as well as a degree in Home Economics.
She farms with her husband and son in southwestern Manitoba on a certified seed farm.
Elaine was nominated by her colleagues and peers Maggie Van Camp, Jim Snyder and Don McCannell to receive the 2018 Wilson Loree Award.
This is some of what they had to say about her contribution to affecting positive change in farm business management:
"Elaine Froese has been called the 'Farm Whisperer', but I like to call her 'The Mother of Succession'. For nearly 25 years, she has changed the conversation about transition and business planning by understanding and including the emotional factors affecting farm families… She is creating a sense of hope and pathways for farm families to kickstart conversations and to deal with what she calls the 'undiscussabulls' throughout Canada and the world." – Maggie Van Camp
"Elaine has the ability to lead because of her unique skill and training in the areas of conflict resolution, combined with her personal experience and understanding of farm family dynamics and the unique relationship between farmers and their land. She is known and respected across Canada, for her ability to help families overcome personal challenges, in order to achieve a greater vision for family businesses." – Jim Snyder, BDO
Wilson Loree personally presented the award to Elaine at the Agricultural Excellence Conference.
"Elaine has turned her lifelong experiences as a coach for over 1000 farm families and personally as a farm owner into pragmatic ways to navigate transition, communication and other sensitive issues on the farm" said Wilson. "And her influence is spreading. She has trained consultants and coaches in Australia, the U.S. and Canada and has become a mentor to new transition coaches – transferring and extending her unique skills and ability. Elaine emanates the spirit of the Award. I am pleased to honour Elaine with the 2018 Wilson Loree Award."
"It's now 2018 and a new generation are building an amazing culture for agriculture across our great country. I'm thrilled to continue to meet them, mentor them, and coach them. And, gently urge their parents to let go, and reinvent their roles," Elaine noted. "An inheritance is what you leave with people; a legacy is what you leave in them – thank you Wilson Loree for this recognition of my passion to empower family, increase profit and secure legacy."
Wilson Loree retired as Branch Head of Agriculture Business Management after 27 years with Alberta Agriculture, Food and Rural Development. The Award was created in 2002 in Wilson's name by Farm Management Canada. Wilson is cited as "an individual who exemplifies innovation, wisdom, and a constant focus on the farm manager and the farm family." Currently Wilson resides in Calgary, Alberta.
About Farm Management Canada
A national umbrella for Canadian farm business management activity, Farm Management Canada is the only organization devoted exclusively to the development and delivery of advanced business management information, tools and resources to position Canada's farmers for success. Farm Management Canada's programs and activities are made possible through support from generous sponsors and supporters.
– 30 –
For more information contact:
Farm Management Canada
Heather Watson, Executive Director
Farm Management Canada
300-250 City Centre Ave., Ottawa (Ontario) K1R 6K7
Telephone: 1-888-232-3262 Fax: 1-800-270-8301
Email: info(at)fmc-gac.com
www.FMC-GAC.com