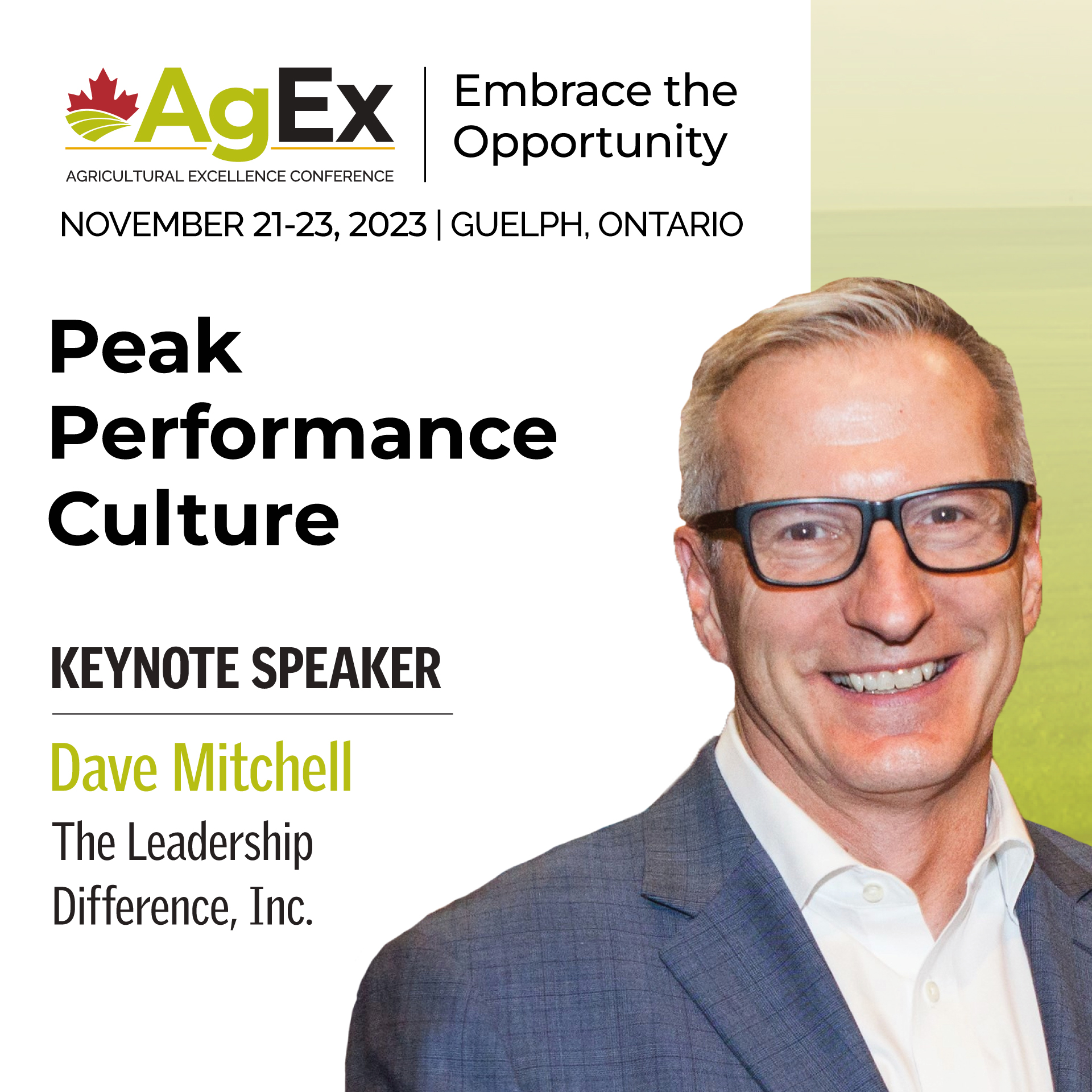 A little bit about Dave's Session: The highest performing organizations separate themselves from others with five critical strategies. The metrics of Peak Performance combine to create fiscal success, operational efficiency and stakeholder satisfaction-for both customer and employee loyalty. Dave's keynote will provide a high-level road map for implementing the five peak performance metrics and provide the cornerstone of a strategic plan for performance excellence. Dave has used these concepts with organizations worldwide to drive better results. Get ready to create a strategy that maximizes your farm business' future success!
Get to know Dave: Since founding the Leadership Difference in 1995, over 450,000 people have attended Dave Mitchell's "enter-TRAIN-ment" seminars on topics that include leadership, customer service, selling skills, and personal performance enhancement. His clients include Allstate Insurance, Bank of America, Universal Studios, Hilton Worldwide, Sub-Zero Wolf Appliances, Electrolux Appliances, Trek Bikes, Walt Disney World and the CIA.
Prior to starting his own organization development consulting firm, the Leadership Difference, Dave was the Vice President of Human Resources and Quality for Buena Vista Hospitality Group, Corporate Director of Training and Development for Marshall Field's and a television reporter and producer for CBS News. He has a B.A. in Mass-Communications with an emphasis in Business Administration and a Masters Degree in Global Human Resources Development. Dave has served as adjunct professor at the University of Illinois and has been designated as a Certified Advanced Wine Sommelier (som-uh-yay) by the International Wine Guild. Having failed to achieve his dream of playing professional baseball, he went on to a successful coaching career at the tee ball level.
Dave is the author of the book Live and Learn or Die Stupid! The book focuses on personal contentment and performance excellence. It was released in July of 2006 and was at the top of his publishers' best seller's list in the very first month of its release. In December 2013, The Power of Understanding People hit book shelves. Amazon selected it as Editor's Choice for best business book. His next book, The Power of Understanding Yourself was released in January 2019 and was named "Top Read" by Training Magazine and Editor's Pick by getabstract.com. Dave's fourth book, Peak Performance Culture: The Five Metrics of Organizational Excellence, was released in September 2020 to critical acclaim.
Hear from Dave himself: