Farm Management Canada Celebrates Success at AGM
Farm Management Canada would like to thank everyone who participated in this year's Annual General Meeting (AGM). The AGM was held virtually July 7th and was a great success, welcoming members and stakeholders from across Canada and around the world to celebrate Farm Management Canada's 2020-21 accomplishments and hear the results of Director elections.
"The Annual Meeting is an occasion to not only share our accomplishments over the past year," says Heather Watson, Executive Director, "but also recognize those who have helped us along the way. I'm blown away by the support of Canada's agricultural industry and look forward to continuing to create and deliver innovative programming and services to meet the ever-changing needs of the industry in support of farm business excellence."
Farm Management Canada highlighted the recent success of its Agricultural Excellence Conference, National Farm Leadership Program, Roots to Success risk management training program, AgriShield risk assessment and planning platform, and study exploring how best to support Indigenous producers. Farm Management Canada's reach and impact was further demonstrated by countless speaking engagements and contributions to popular press, and agricultural policy and programming.
Farm Management Canada's Annual Report detailing the organization's accomplishments is available online at www.fmc-gac.com.
This year, Farm Management Canada received 6 nominations for 3 Board positions available.
Farm Management Canada welcomed two new Directors, Janine Sekulic and Steve Duff to its Board of Directors, and Terry Aberhart was re-elected to the Board for a second term.
Janine Sekulic was born and raised as the fourth generation of her family's grain operation near Rycroft in Northwestern Alberta. Her skills technical skills in farm financial analysis have been developed through her work with business risk management programs and in advisory engagements. This experience built a strong practical foundation to move into agricultural finance. She is currently the National Director of Agriculture and Agribusiness at BMO and is passionate about Canadian agriculture.
Steve Duff comes from a dairy and beef background and currently farms in Northumberland county, Ontario. Steve holds a Masters in Ag Economics and started as an agricultural economist with the Ontario Ministry of Agriculture Food and Rural Affairs (OMAFRA) in late 1997. Over the course of 13 years, Steve has been OMAFRA's lead on provincial and national development programs and has chaired several federal-provincial-territorial committees including the Business Risk Management (BRM) advisory committee. He is currently OMAFRA's Chief Economist.
Terry Aberhart has served on the Farm Management Canada Board of Directors since 2018. He and his wife Lichelle, farm with his father Harvey and a dedicated team operating Aberhart Farms Inc. Under Terry's leadership the farm has grown tenfold to 16,000 acres. With an eye for opportunity, and a focus on innovative precision agriculture, terry has launched several venture. Recently, Terry partnered with Warren Bills to created Convergence Growth, a unique company focusing on developing new technologies and bridging the gap between agriculture, food and health. Terry's entrepreneurial spirit and business acumen was recognized by peers early in his farming career, as he and his wife were nominated as Saskatchewan's Outstanding Young Farmers in 2017.
Farm Management Canada, its members and Board extended a sincere thank you to its outgoing Board members Joerg Zimmermann and Larry Martin. Joerg and Larry were both elected to the Board in 2015. Joerg served as Chair from 2018-2021 and Vice Chair from 2016-2018.
"We are a catalyst for change," says Joerg Zimmermann, outgoing Chair of Farm Management Canada. "From our spark, we hope to light the fire within farmers to embrace farm business management and reap the unlimited rewards. Serving on the Board has been a great opportunity to listen and learn over the past six years and build long lasting relationships with like-minded people. I look forward to continuing to follow the success of Farm Management Canada – see you all at AgEx!"
Following the Annual Meeting, Andrea Gal, who farms with her family in Oxford County, Ontario and works as a consultant, was elected Chair. Roberta Galbraith, a farmer from Manitoba was elected Vice-Chair, and Derek Brewin, Head of the Department of Agribusiness and Agricultural Economics at the University of Manitoba was elected Secretary/Treasurer.
"Through my co-management of my family farm operation, I developed a passion for farm business management. I am thankful for the opportunity to collaborate with the talented board and staff at Farm Management Canada," says Andrea Gal. "I look forward to supporting Farm Management Canada as it develops and refines practical programs and resources that producers can use to support their resiliency and prosperity."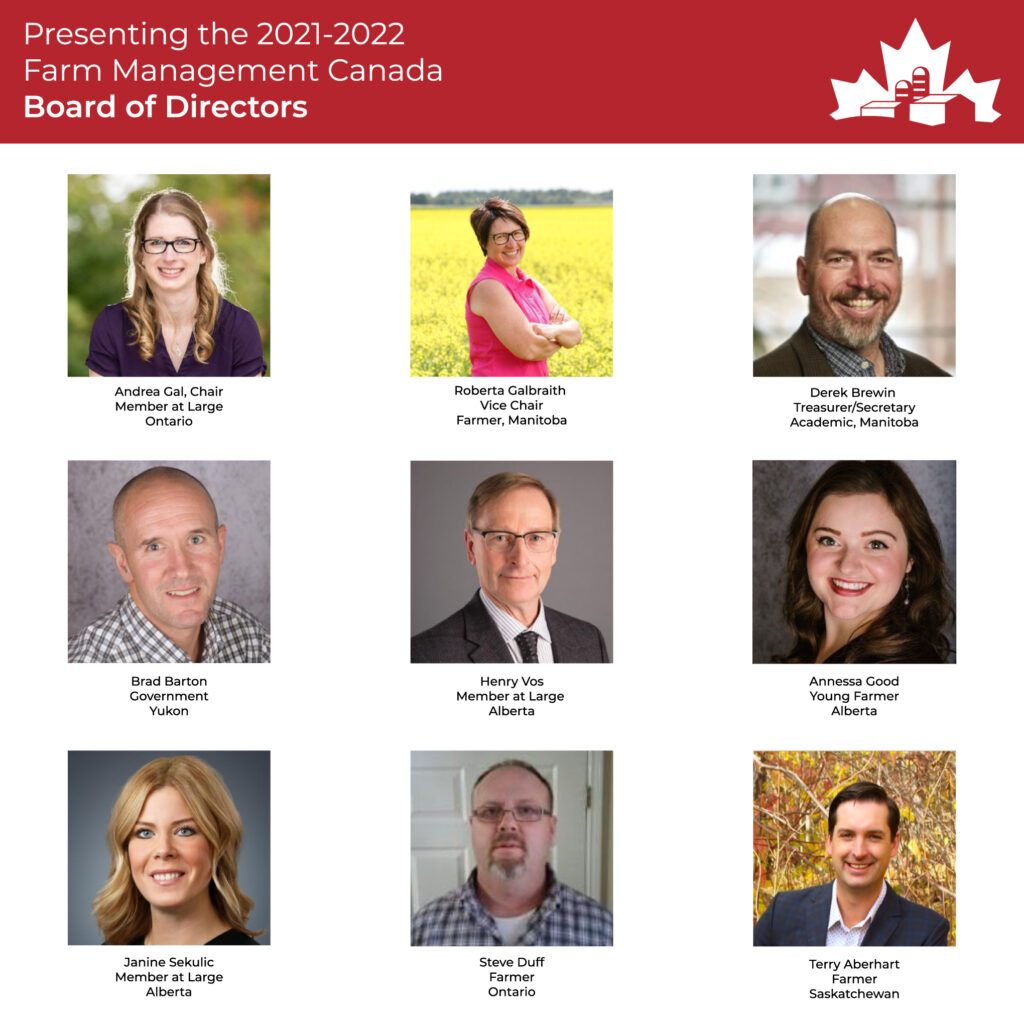 To find out more about our Board of Directors, visit https://fmc-gac.com/who-we-are/.
About Farm Management Canada
A national umbrella for Canadian farm business management activity, Farm Management Canada is the only organization devoted exclusively to the development and delivery of advanced business management information, tools and resources to position Canada's farmers for success. Our programs and activities are made possible through support from generous sponsors and supporters including Government, private industry, the non-profit sector and academia.
For more information contact:
Andrea Gal, Chair
Email: Andrea(at)wiltongroup.ca
Heather Watson, Executive Director
Email: Heather.Watson(at)fmc-gac.com