Join us October 10th in Arnprior to celebrate and take part in World Mental Health Day!
Farm Management Canada is proud to receive the Peavey Industries LP/TSC Stores Ltd. Community Agricultural Grant designed to address the vast and varied needs of agricultural communities. In partnership with The Do More Agriculture Foundation, we will be running a workshop series titled Healthy Farmers, Healthy Farms: Supporting the backbone of rural communities throughout 4 communities in Ontario. The workshops will engage and educate farmers in support of building resilience so our farming families can continue as major contributors to our social fabric, rural economy and environment.
Take a Mental Health break from Harvest and join us for a BBQ!
Where:
TSC Stores Arnprior
60 Staye Ct Dr, Arnprior, ON
When:
Thursday, October 10
11:00am-1:00pm
October 10 is World Mental Health Day. Farm Management Canada, Peavey Industries LP and The Do More Agriculture Foundation along with representatives from supporting organizations will be at TSC Stores in Arnprior to announce the grant and celebrate World Mental Health Day by providing farmers and agricultural supports with the opportunity to join us and take a much-needed break!
About the Workshops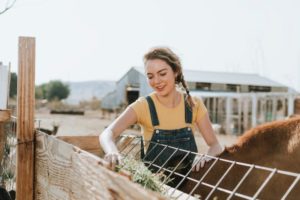 Farmers are the backbone of rural communities. However, our farmers are facing risk and uncertainty like never-before, from Mother Nature to changing markets and regulations, much of which is outside their control. Public trust is now putting more pressure on farmers. A recent University of Guelph study shows farmers suffer from higher rates of stress, anxiety, and depression than the general population. This incredible stress is jeopardizing our farmers' health and likewise, the health of rural communities.
There is a stigma around mental health in the agricultural community – one that must be brought to light, so we can work towards solutions and greater support. When it comes to farming, the effects of mental health go beyond the individual. The business must keep going, the team must be led, the animals must be fed, crops managed, cows milked and local community and economy supported. Farm business management facilitates mental preparedness, reducing stress and the physical, mental, emotional and behaviour consequences thereof. Hence, there is an inherent connection between mental health and managing the farm.
Farm Management Canada, partnering with The Do More Agriculture Foundation will be hosting a series of local one-day workshops throughout rural Ontario to engage and educate farmers in support of mental health in their communities, tying mental health to farm business management. To not only support social outcomes, but empower farmers to confront change with confidence and seize opportunity – to not just survive, but thrive. These workshops will help community members recognize the signs of stress and build the knowledge, skills and practices to gain the confidence to assist one another and build a local support network, while putting measures in place to support their own mental health.
We will be hosting workshops in the following communities, in the winter of 2019-2020. Specific dates and locations will be announced at a later date.
London
Guelph
Kawartha Lakes
North Grenville
Read the full media release here.
If you have any questions, or would like to be involved, please contact:
Denise Rollin
Project Manager
Farm Management Canada
613-237-9060 x 32
Denise.Rollin(at)fmc-gac.com