Manitoba's Marcel L. Hacault Recognized for his Contribution to Farm Management Excellence with Prestigious Wilson Loree Award


Farm Management Canada recently held its national annual Agricultural Excellence Conference virtually where Marcel L. Hacault was announced as the 2020 recipient of the prestigious Wilson Loree Award. Now in its eighteenth year, the Award honours individuals or groups who have made an extraordinary contribution to advancing agricultural business management practices in Canada.
Marcel has dedicated his life's work to Canada's agricultural sector, starting in the 1980s as the owner-operator of a farrow to finish hog farm in Niverville, Manitoba. He then became involved in agricultural advocacy, becoming Vice President of the Keystone Agricultural Producers from 1997-1999 and Chair of the Manitoba Pork Council from 1999 to 2004.
Since 2004, Marcel L. Hacault has served as Executive Director of the Canadian Agricultural Safety Association (CASA), spearheading the organization's transformation from a safety grant administrator, to an organization that leads national efforts to improve agricultural safety across Canada. Today, the Canadian Agricultural Safety Association is a national, non-profit organization dedicated to improving the health and safety of farmers, their families and agricultural workers. Since 2012, Marcel has also served as Executive Director of the FarmSafe Foundation, the charitable arm of CASA.
Marcel is also an ex-officio Board member for the Progressive Agricultural Foundation and past Board member of the Manitoba Institute of Agrologists and International Society for Agricultural Safety and Health.
Marcel has a Bachelor of Science Degree in Agriculture, a Plant Science Degree and a MBA from the University of Manitoba.
Marcel will be retiring from his role at CASA in March, 2021.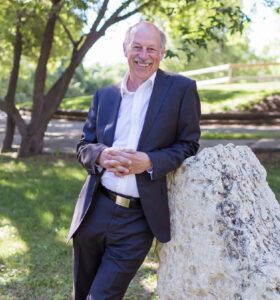 Marcel was nominated by Michele Rogalsky, Wendy Bennett, Carolyn Van den Heuvel and Karl Klotzbach to receive the 2020 Wilson Loree Award.
This is some of what Marcel's colleagues had to say about his contribution to affecting positive change in farm business management:
"There was a time that health and safety was an unmentionable topic in our industry. Rather than shy away from this challenge, Marcel embraced it."
"While farm safety was not always considered a business management tool; in recent years this has become an essential part of the farm management discussion. This raised profile has been largely influenced by Marcel in his role as Executive Director of the Canadian Agricultural Safety Association (CASA)."
"In 2011, Marcel and his team at CASA challenged me as Director of the School of Agriculture at the University of Manitoba to make farm safety management a priority. Since then, the School of Agriculture has incorporated farm safety content in its agricultural programming. Students in the program now see farm safety as an important farm management function."
"Marcel has led and inspired a broad range of Canadian agricultural safety specialists and related industry stakeholders to actively engage in promoting safe practices on Canadian farms and providers of services to Canadian farmers."
"Providing leadership and guidance, Marcel has supported many organizations in successfully establishing farm safety programs to further support the industry."
"Under Marcel's leadership the Canadian Agricultural Safety Association piloted the Canada FarmSafe Plan resource in 2011. This pilot project was essential to the advancement of farm safety in Nova Scotia agriculture along with the advancement of our organization. Prior to this pilot project, CASA also supported the establishment of the Society of Farm Safety Nova Scotia – providing resources and leadership. There is no denying that Marcel was a huge contributor to the success of our program."
"Marcel continually looks to find new ways to support the advancement of farm health and safety and to bring people together to network and share ideas. This can be seen through the many initiatives delivered by the organization including BeGrainSafe, Canadian Agricultural Safety Week Campaign, the Annual CASA Conference and bringing Progressive Agriculture Safety Days to Canada. These initiatives are only successful because of the partnerships and networks Marcel has developed and continues to foster."
Wilson Loree presented the award to Marcel during the Evening of Excellence, held virtually in conjunction with the Agricultural Excellence Conference.
Wilson Loree retired as Branch Head of Agriculture Business Management after 27 years with Alberta Agriculture, Food and Rural Development. The Award was created in 2002 in Wilson's name by Farm Management Canada. Wilson is cited as "an individual who exemplifies innovation, wisdom, and a constant focus on the farm manager and the farm family." Currently Wilson resides in Calgary, Alberta.
About Farm Management Canada
A national umbrella for Canadian farm business management activity, Farm Management Canada is the only organization devoted exclusively to the development and delivery of advanced business management information, tools and resources to position Canada's farmers for success. Farm Management Canada's programs and activities are made possible through support from generous sponsors and supporters.
-30-
For more information contact:
Heather Watson, Executive Director
Farm Management Canada
300 – 250 City Centre Ave., Ottawa (Ontario) K1R 6K7
Telephone: 1-888-232-3262
Email: info(at)fmc-gac.com
www.FMC-GAC.com