Are you ready to get back to in-person events? We sure are! Join us November 22-24 in Canmore, Alberta at the Coast Canmore Hotel! Enjoy the scenic mountain views while discovering new ways to take your farm business to the next level!
The Agricultura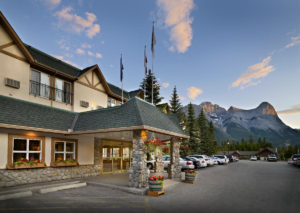 l Excellence Conference (AgEx) welcomes anyone and everyone from farmers to advisors, academia, organizations, private industry, and government to join us to exchange expertise and insights to continue to position Canada's farmers for success through farm management excellence.
This year's Conference theme, Reaching New Heights, is a celebration of the opportunities ahead for Canadian agriculture and acknowledging and embracing the farm business management practices that provide the foundation for success.
For the first time ever, we will be hosting a hybrid event allowing participants to attend in-person in Canmore, Alberta or to join virtually. Having both a physical meeting place and a virtual platform provides the best of both worlds to build your business network with farm management enthusiasts from across Canada. The in-person event includes a variety of keynote presentations, concurrent workshops, panel discussions, the national farm business resource showcase and networking with Canada's farm business thought leaders. If you can't join us in person, you can join us on our virtual platform, where we will host the keynote and panel discussions live, while also giving access to on-demand sessions and recordings.
Join us in Alberta for an exclusive tour of Hilton Venture Farms and Origin Malting and Brewing, our resource showcase, interactive networking sessions, Farm Management Canada's 30th Anniversary Banquet, and so much more!
Hotel Information
Coast Canmore Hotel & Conference Centre
You can book your hotel room now!
To book a room during the conference, please call in to the hotel at 1-800-663-1144 and quote code CCM-GFC4814 or Agricultural Excellence (AgEx).
Rates will be offered 3 days pre and post contracted dates based upon availability at time of request (room type and rooms are not guaranteed for pre and post stay) for any guests looking to spend extra time in the mountains. Guests will be required to provide a credit card at time of reservation.
Interested in supporting AgEx 2022?
There are many ways you can support the Agricultural Excellence Conference ranging from $2,500 to $25,000.
We're of course happy to discuss a customized sponsorship package too.
To obtain a copy of our Sponsorship Package and discuss opportunities to support AgEx 2022 contact:
Nick Oakley
Business Development Lead
Telephone: 519-217-4601
sponsorship(at)fmc-gac.com