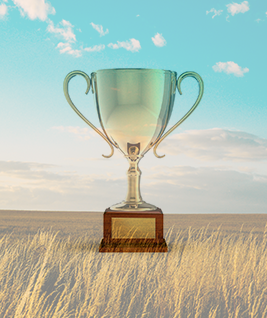 Do you know someone who has made an extraordinary contribution to developing and promoting new and positive change in farm business management practices and expertise in Canada?
Nominate them for the Wilson Loree Award today!
Farm Management Canada is seeking to honour individuals or groups with the 2023 Wilson Loree Award. This prestigious award was established over fifteen years ago, to honour those that have made an extraordinary contribution to developing and promoting new and positive change in agricultural business management practices and expertise in Canada.
Farm Management Canada encourages the nomination of individuals or groups that:
have made significant contributions in the area of farm business management regionally or nationally;
have demonstrated innovation in areas such as turning research into practical management tools, adapting best practices from other sectors to agriculture, and finding new ways to deliver training, information and resources to farm managers;
have served as a role model and a mentor to colleagues, partners and clients, inspiring them to achieve their full potential;
have demonstrated the ability to network and develop partnerships to include others in furthering the shared goals and vision of the agriculture industry
Nominations are required by October 6, 2023. The nominator must be a member of Farm Management Canada. Farm Management Canada Staff and Board members are not eligible for the award. The winner will be revealed during the Agricultural Excellence Conference, which will take place from November 21-23 in Guelph, Ontario. All are welcome.
Click here to access the nomination form for the 2023 Wilson Loree Award.
About the Award
The Wilson Loree award is named after Wilson Loree who retired as Branch Head of Agriculture Business Management after 27 years with Alberta Agriculture, Food and Rural Development. A past director and one of the founders of the Canadian Farm Business Management Council (now Farm Management Canada), he has been cited as "an individual who exemplifies innovation, wisdom, and a constant focus on the farm manager and the farm family."
About Farm Management Canada
A national umbrella for Canadian farm business management activity, Farm Management Canada is the only organization devoted exclusively to the development and delivery of advanced business management information, tools and resources to position Canada's farmers for success.
Only members of Farm Management Canada can submit nominations for this award. For more information and for a full list of member benefits, please visit our membership page.
Recipients of the Wilson Loree award to date are:
2022 – Michele Rogalsky, Manitoba
2023 – Colleen Younie, Prince Edward Island
2020 – Marcel Hacault, Manitoba
2019 – Len Davies, Ontario
2018 – Elaine Froese, Manitoba
2017 – Darrell Wade, Ontario
2016 – Merle Good, Alberta
2015 – Terry Betker, Manitoba
2014 – Peter VanderZaag,Ontario
2013 – Jean-Philippe Perrier, Quebec
2012 – Lyle Staveness, Saskatchewan
2011 – Dr. Larry Martin, Ontario
2010 – Brian Little, Ontario
2009 – George Geldart, British Columbia
2008 – Raymond Levallois, Quebec
2007 – Marcel Couture, agr., Quebec
2006 – Ian Hall, Alberta
2005 – The Team of Farm Management Instructors from the School of Agriculture, University of Manitoba
2004 – Dr. Len Bauer, Alberta
2003 – Fédération des groupes conseils agricoles du Québec
Wilson Loree Award
Farm Management Canada
21 Florence Street, Ottawa ON K2P 0W6
E-mail: info(at)fmc-gac.com
Brigid Rivoire Award for Champions of Agricultural Mental Health
Brigid Rivoire Award for Champions of Agricultural Mental Health
Farm Management Canada is pleased to be part of this wonderful initiative in honour of Brigid Rivoire and in support of farmer mental health.
The Brigid Rivoire Award for Champions of Agricultural Mental Health annually recognizes a specific initiative that has made outstanding contributions in raising awareness, addressing stigma, and supporting mental health for farmers in their local community. This annual award includes a $2,000 donation to a mental health initiative of the recipient's choice, along with an invitation to attend the Canadian Federation of Agriculture's (CFA) Annual General Meeting in February with all expenses paid.
The award will be given out at the CFA's Annual General Meeting in Ottawa.
For more details on the award and nomination process visit: www.cfa-fca.ca/programs-and-projects/mentalhealthaward/
Government Funding for Farmers
Government Funding for Farmers
Cost-Sharing Funding Opportunities for Farmers

The  Canadian Agricultural Partnership (CAP) ended on March 31, 2023.  This page will be soon be updated with new information pertaining to the Sustainable Canadian Agricultural Partnership (Sustainable CAP). Stay tuned for more info!
Canada Job Grant
The Canada Job Grant (CJG) is a Canadian government funding program designed to reduce the costs of upskilling new and existing employees so that they can become more valuable to the business. Farms have been deemed eligible business to obtain CJG funding. Provinces and Territories offer varying funding amounts and eligibility criteria.
Other Government Cost-Share Funding Sources for Farmers
British Columbia
Manitoba
New Brunswick
Newfoundland and Labrador
Nova Scotia
Prince Edward Island
Yukon